vCare shows how to apply FIWARE's enabling technology
The close collaboration between vCare, MYSPHERA, and FIWARE was clearly demonstrated at one of the world's leading world Internet of Things (IoT) events earlier this week on 16 October 2018.
FIWARE is really important for vCare. The project wants to apply FIWARE since it is one of Europe's most prominent and promising IoT platforms. Likewise – as FIWARE moves more and more into the healthcare domain – vCare will offer an excellent test bed in European settings for the use of FIWARE.
The FIWARE Foundation https://www.fiware.org/foundation/ was a silver sponsor at the IoT Solutions World Congress. The foundation promotes an open source platform components that will accelerate the development of smart solutions.
Held in Barcelona, Spain from 16-18 October 2018, the congress highlighted applications ranging from healthcare to connected transport. One of the congress's requirements was to present a showcase that uses the Orion Content Broker, FIWARE's main generic enabler.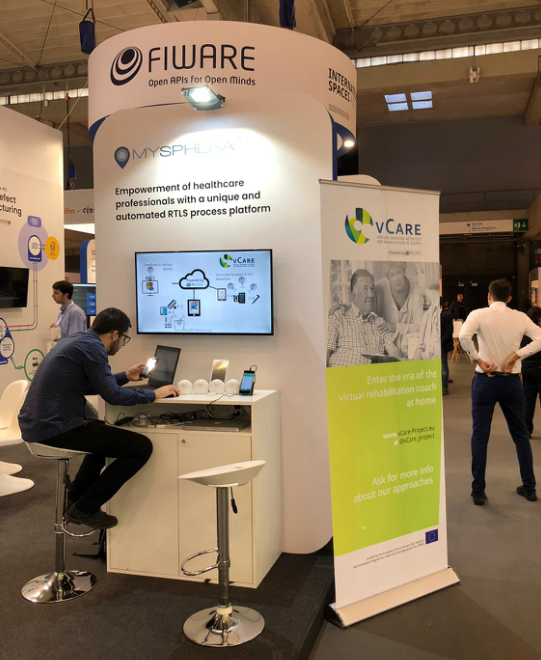 MYSPHERA, http://mysphera.com, based in Valencia, Spain, uses IoT solutions to support digital hospitals and digital patients. The company is one of the prominent partners in the vCare project.
The Foundation invited the MYSPHERA company to showcase its recent technical developments at the congress exhibition. These eHealth advances are underpinned by FIWARE technology.
Jordi ROVIRA from MYSPHERA presented the proposed vCare solutions at the congress. The vCare project is already using a wider range of generic enablers provided by this standard IoT technology. More FIWARE solutions were shown in which vCare is taking a lead role.