vCare health professional introduces coaching enabling digital transformation
On 26 September 2018, Dr Massimo Corbo of the vCare's partner Department of Neurorehabilitation Sciences of Casa Cura Policlinico (CCP), Milan attended the "Connected Health Now" conference, where he presented the vCare Project.
Dr Corbo introduced the vCare project, its objectives, the proposed use cases and main developments during a Round Table on "Hospitals and research: opportunities and critical factors in digital transformation." Members of the round table discussed possible innovations for effective and sustainable health care occurring today.
Dr Corbo announced: "Future tools, like vCare, are key to digital transformation in health. It is really important to develop a multidisciplinary approach and co-design meaningful activities that may enhance and improve our health care."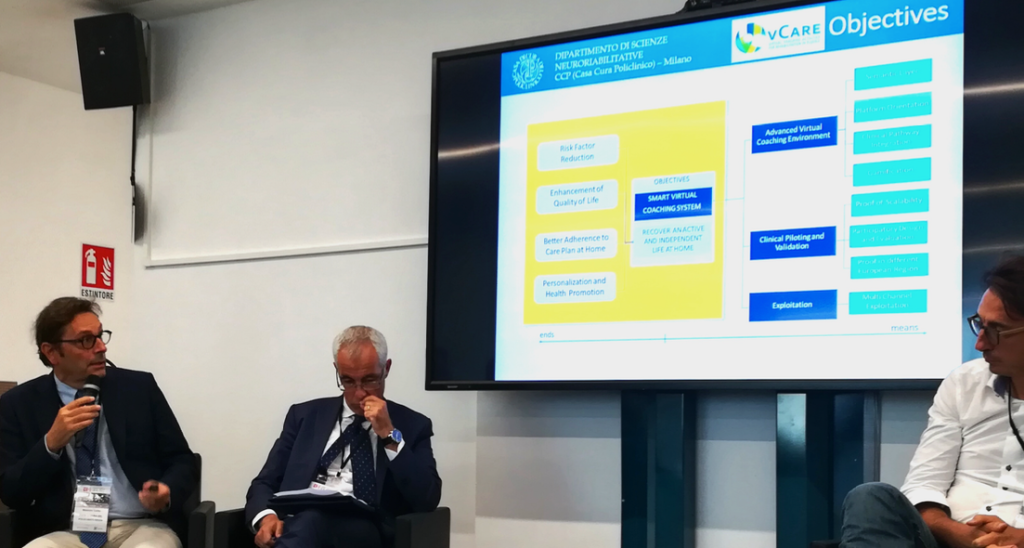 The main topics covered during the table were about how new technologies and new paradigms offer potential to:
Internet of Things
Virtual reality or augmented reality, including tools for health care professionals, citizens, and patients, for remote therapy and cognitive training
Big Data, which enables the implementation of Prevention, Prediction, Customization and Participation (the so-called "4P" model)
Blockchain, a change of paradigm for data and data flows
Artificial intelligence, which permits the development of new medical protocols end ethical approaches.
VCare received many shows of interest during the networking event that followed: around 70 persons participated.
The day was a highly stimulating one. It promoted the digital transformation of health. This growing phenomenon will have a potentially revolutionary impact on public and private health in the coming years. Fundamental to the day was the collaboration of clinicians and health managers, technicians, researchers, industries, and small- and medium-sized enterprises.
The event formed part of the Milan Disruptive Week Programme (http://www.disruptiveweek.it/). It was held in the new MIND – Milano Innovation District. The district originally hosted Milan's Expo 2015. Now it is being turned into a science park focused on technological excellence. Fundamental to its success is the Human Technopole, an international research institute for Life Sciences, Healthcare, Biotech, Pharma, Agri-food, Nutrition and Data Science.